I find it amazing that Enrique Iglesias has had a solid career for 13 years now in the Spanish world.  He has one of the most untangible voices in pop music, up there with Paula Abdul and Madonna....yet all his hits in Spanish are ballads!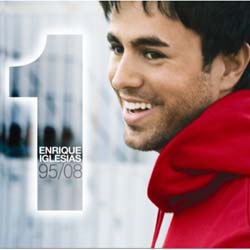 I really don't understand it. How can someone with such a lack of vocal technique appeal to people with love songs??? What do people find appealing about it? Even fucking Paulina Rubio and Thalia, who have the thinnest voices in pop, can carry a ballad to the end at least.
So on that note...about his recent "best of" CD. I find it curious how it supposedly covers his number ones of the last 13 years...yet apart from his new songs his last hit included here is from 2002 hee hee. He ignored the Spanish versions of his english "hits" off his last albums.
posted by musicbeing at 1:21 AM

One whole month without writing!! I feel so..dissatached! It's not like I haven't felt the branwaves of communication but shit happens and you get caught up. I think my other blog has kept me busy too but even then this week I havent written on that too.
So what has been up with me? The same old. I've been working a little more than usual, getting closer to 40 hrs a week. So as a result, I have actually had money to live off :) It's been nice! these last 2 weeks I've gone out more than often, I feel like a normal, ordinary working adult. It's been nice. I guess I should be really frugal and hold on to the extra money, see if it grows on me but I have seriously lived frugally for the last...3 years of my lkife. I need to releaser the tight noose of life every now and then and I am glad that the Lord has blessed me with enough to live.
I haven't signed on to Myspace in a while, but let me formally announce to all the peeps who STILL read this blog (and I love each one of you *kiss*) that my birthday is coming up soon..and I am doing something on the weekend before. So on Saturday April 19, 2008, we will be celebrating my 2-6 killer (thats a Chicago inside joke) birthday at a fun Mexican restaurant by my place where karaoke and margaritas will be there :) I never do anything for my birthday as I never see a big deal. But after the year I had in 2007, I feel like celebrating my current state. So fuck yeah, drink on!
So you peeps who know me personally shalt get a Myspace invite (I've also neglected said website in a while as well).
Muah! les quiero!
posted by musicbeing at 3:08 PM